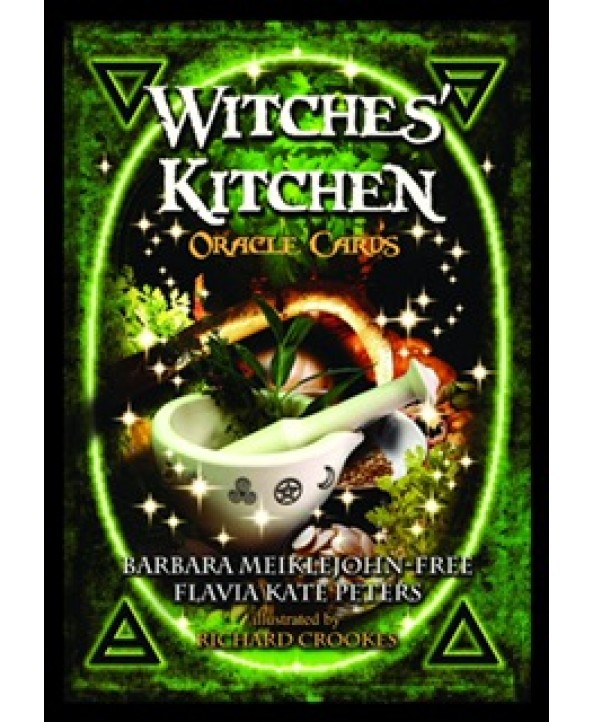 Product Code: tarot
Availability: In Stock
Does your inner witch crave the opportunity to work with natural ingredients, in order to create magic through the messages of plants & herbs through spell work and healing?
Now for the first time in history, the ingredients and recipes of a witches' kitchen is available to you in the form of oracle cards.
The Witches' Kitchen oracle deck is the latest release from best selling authors and witchy duo, Barbara Meiklejohn-Free & Flavia Kate Peters.

The very colourful deck forms the foundations of a spiritual practice working in conjunction with nature, and learning first-hand from the spirit of each plant. Each card that's pulled will introduce you to the power and natural healing magic of herbs, flowers, and spices that can be used kitchen and are the staple ingredients for the dozens or recommended 'recipes' on offer.

The Witches' Kitchen oracle deck puts at your fingertips 48 different plants, each one helping you to connect to the energy, power and potency of their medicine. Read in depth the magical messages, recipes and history of each plant teacher that appears to you, as you shuffle the deck, and channel your inner Kitchen Witch.

Authors and witchy duo, Barbara Meiklejohn-Free & Flavia Kate Peters. are authors of seven oracle decks, including the No.1 bestselling Witches Wisdom, and have ten books between them.
Both High Priestesses are teachers of natural and ancient magic and earth-based traditions, and work extensively together around the world to awaken and empower others, through workshops, rituals, ceremonies and sacred tours.
They are key-note speakers on the MBS & pagan circuits and television appearances include Celebrity Haunted Hotel & This Morning. They regularly write for Spirit and Destiny, FAE Magazine and Witchcraft & Wicca and are considered as the UKs favourite and revered Wise Women.