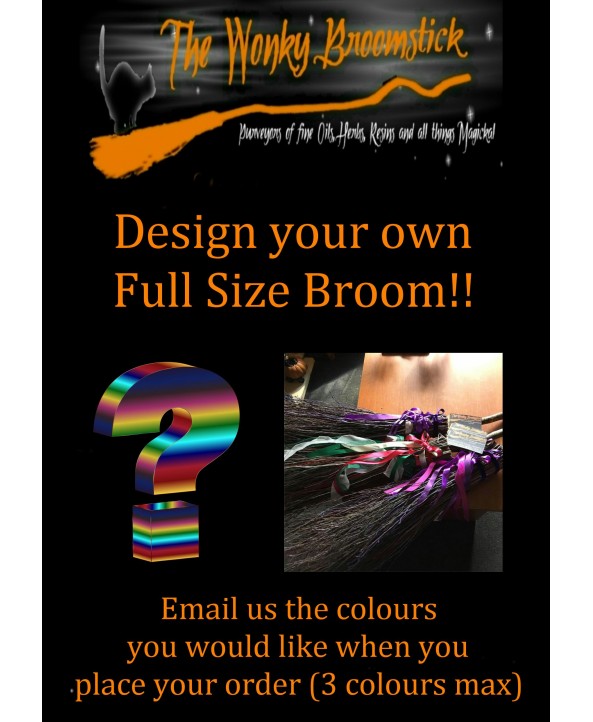 Product Code: broom
Availability: In Stock
Want your very own Wonky Broomstick?
Have a hand fasting and need a broom?
Looking for a wonderful unique gift?
Well we can help with all the above. Here at Wonky Hq we specialise in besoms/broomsticks.
We create each on individually just one thing they are always wonky!!! LOL
Whether you have a colour theme in mind or want it to fit in with a particular room (we have even matched a broom to a leather sofa before) or just have a favourite colour we can create a tailored made besom especially for you.
Our brooms are a maximum of 5ft in length or approx 150 cm (this is the maximum size post office will allow for posting)....and yes we can post, post office are well used to wonky broomsticks being posted had all the jokes as well :)
Commissions usually take 1/2 weeks to make dependant on how busy we are however when we receive an order if you can email us with your transaction details and the colours you would require as well as your postage address where we are to send your broom for confirmation and dependant on how many orders we have we can update you of a ETA. We recommend a maximum of 3 colours as can look to busy and we want your broom to look as best as we can make it as we pride ourselves on making truly fabulous wonky brooms.
Each of our brooms come complete with a Wonky License so if you can let us know what name you would like on the license let us know and we can fill name in. They are valid for 1 year and as long as we hear of no dangerous flying or accidents whilst flying just come back each year for a renewal :)
If you are unsure of how our brooms look please scroll through our picture gallery of previous commissions
Please note are brooms are quite sturdy but are mainly for ritual, decoration and ornamental use we do not recommend using them for manual work.
We can post internationally, certain countries customs depending just message us prior to purchase for postage costs