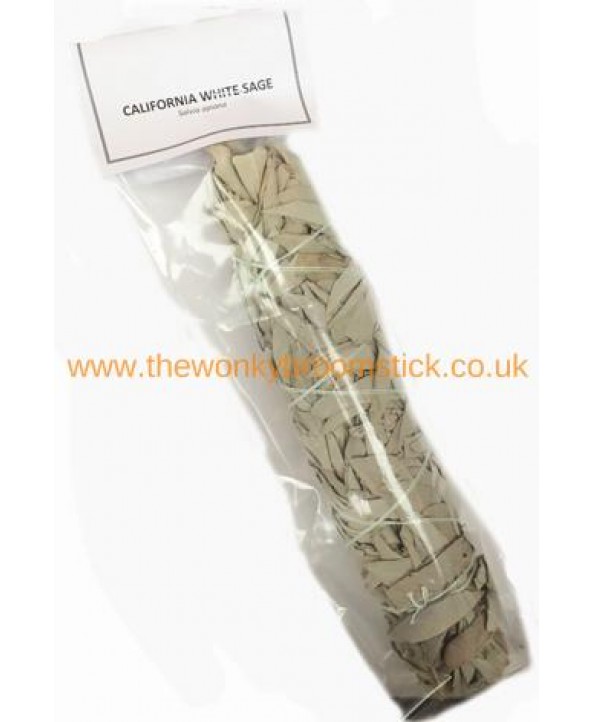 Large California Sage Stick
Product Code: sage
Availability: In Stock
Large California White Sage Smudge Stick
Size: Approximately 9 inches in length (24 cms)
Origin: Grand Mesa, Colorado

Smudge Sticks: Can be used to cleanse negative energies for a person, place or space.
White sage (Salvia apiana) is a plant native to high desert ecosystems and grows prevalently in California and in the Mountain West. For hundreds of years, white sage has been considered a sacred, cleansing, purifying, and protective plant.
Native Americans started the tradition of using Sacred Sage to ward off evils spirits and negative energies, and white sage has been used in ceremonies to seek blessings of health and prosperity, banish spirits, encourage protection. Sacred sage can amplify any clearing and protective techniques that you are already using. As a plant, and a living being, sage also has a Spirit.
The Spirit of sage is dedicated to offering protection, blessings, and clearing.Sage Smudging is a ritual where the leaves of the Sage plant are burned, and the smoke is directed into and onto areas that are in need of clearing and protection. The idea is that as the leaves are burned, and you speak express your gratitude for its assistance, the spirit of the sage plant releases it's energy of protection and clearing into the space, or onto and surround the object that needs clearing. As the smoke moves through the room or over a surface, the smoke attaches itself to any heavy, negative energy that is within the space, object or
being. As the smoke clears, the spirit of White Sage carries with it the negative energy that was once attached, back up to the Spiritual Light.