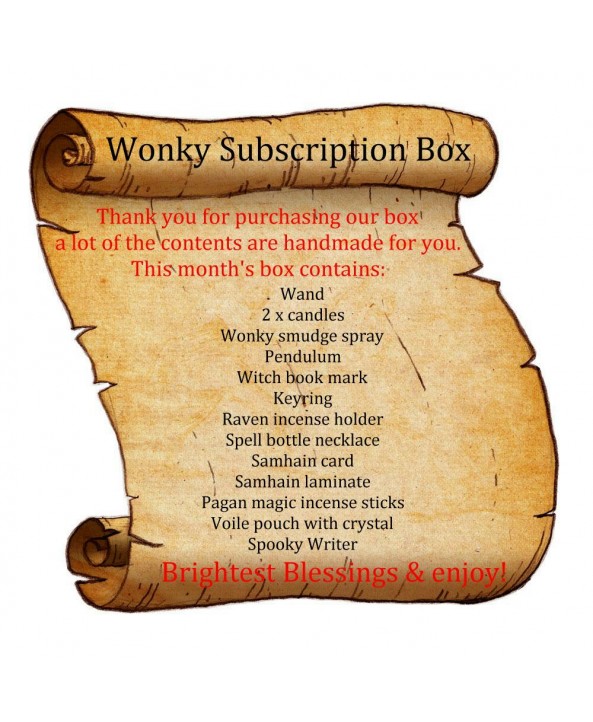 Wonky Subscription Box - UK
Product Code: Subscription Box
Availability: Out Of Stock
WONKY SUBSCRIPTION BOX
Each monthly subscription box is individually made by us at Wonky HQ.
Our ethos at The Wonky Broomstick is made for Witches by Witches
Whether you are a practising witch, new to the craft or just interested in our magickal world these monthly boxes are designed to help you along your spiritual path using knowledge that has been passed down to us through many generations of witches.
We are both practising Hedge witches with a truly eclectic knowledge of the craft and with this culmination of knowledge we have decided to put together a truly wonderful monthly box, to not only help you collect and replenish your supply cupboard but increase your own knowledge in the process, passing on the wonderful knowledge been passed down to us.
The main emphasis of our boxes are handmade so a lot of items will be made by ourselves and a lot of original products not seen before not even at Wonky they will be created especially and launched exclusively through our Wonky Subscription Boxes.
We will also be concentrating on the Pagan wheel of the year so when we approach a Sabbat, the main theme for that months box will be focused around that Sabbat helping you prepare for your ritual and celebration i.e for Samhain (31st Ocober) Septembers box will included your Samahain goodies.
Each monthly box will include a selection of the following:
A handmade sabbat altar cloth.
Solid spell candles.
Handmade incense.
Herbs.
Exclusive Wonky original artwork.
Exclusive Wonky original artwork sabbat picture and information.
Altar ware.
Magickal oil for candle anointing or ritual use with corresponding information.
Spell kit with instructions.
Crystal with corresponding information.
Wonky exclusive item
Each box will have a retail value of over £50 and postage is included in each listing all you need to do is select the correct listing for where u live whether it is in within the United Kingdom or if not Worldwide - Its that simple!