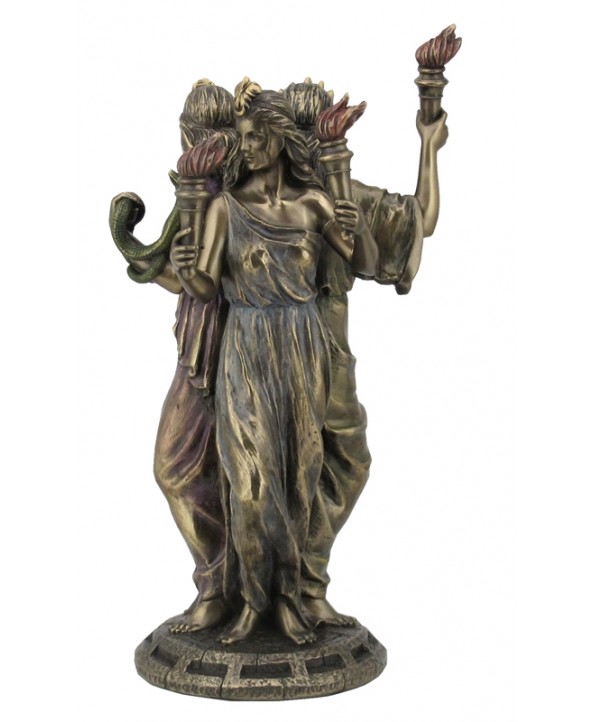 Product Code: statue
Availability: Out Of Stock
Hecate was the goddess of magic, witchcraft, the night, moon, ghosts and necromancy.
She was the only child of the Titans Perses and Asteria from whom she received her power over heaven, earth, and sea.

She is the One who has access to all the realms of existence -- material Earth, the Heavens, the Underworld.... Hecate stands at the Gateway between the Worlds, as guard and guide.

Hecate (sometimes spelled Hekate) was originally a Thracian, and pre-Olympian Greek goddess, and ruled over the realms of earth and fertility rituals. As a goddess of childbirth, she was often invoked for rites of puberty, and in some cases watched over maidens who were beginning to menstruate. Eventually, Hecate evolved to become a goddess of magic and sorcery. She was venerated as a mother goddess, and during the Ptolemaic period in Alexandria was elevated to her position as goddess of ghosts and the spirit world.
- Height: 29 cm
- Width: 18 cm
- Depth: 18 cm

This Extremely Detailed and Well-Made statue is made with cold cast bronze,
The special production process of this piece, originated from Great Britain,
uses actual bronze powder mixed in the cold cast resin in order to ensures a richer, more life-like presentation.

Comes boxed