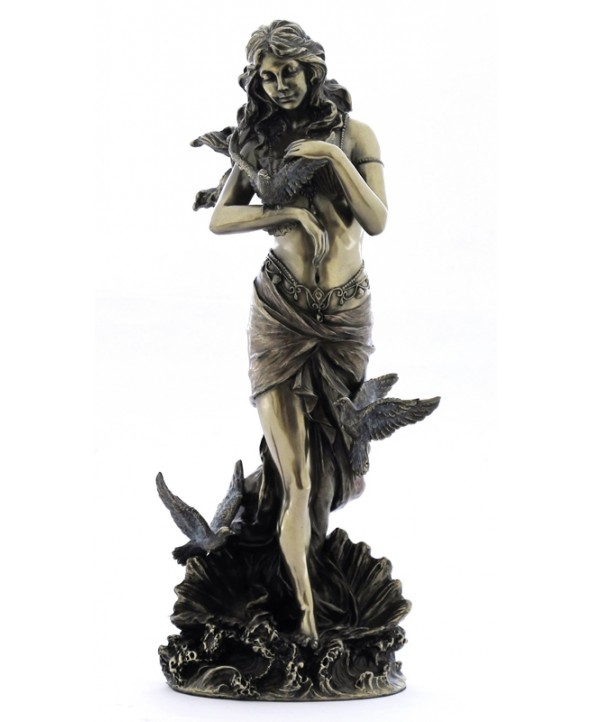 Product Code: statue
Availability: In Stock
Bronzed Aphrodite with Doves on Scallop Shell Statue
Aphrodite was the goddess of love, beauty and fertility. She was also a protectress of sailors, having been born of the sea, and is often depicted standing on a scallop shell.
Aphrodite is the Greek goddess of love, sex, and beauty. In one of the most famous images of the goddess, we see her emerge from the sea, a reference to her origin story.
In this older of the two stories of Aphrodite's birth, she emerges from the sea a grown woman. Her father is Uranos/Zeus the god of the sky, and she has no mother.
This beautiful statue is made of cold cast resin.
It has a bronzed finish accented by subtle hints of colour that emphasises the detail of the piece and makes it look like metal. This statue makes a great gift for mythology buffs, and is sure to be admired.
Cold Cast Resin
Beautiful Bronzed FinishHand Painted AccentsWonderfully Detailed
- Height: 27 cm
- Width: 11 cm
- Depth: 11 cm

This Extremely Detailed and Well-Made statue is made with cold cast bronze,
The special production process of this piece, originated from Great Britain,
uses actual bronze powder mixed in the cold cast resin in order to ensures a richer, more life-like presentation.

Comes boxed