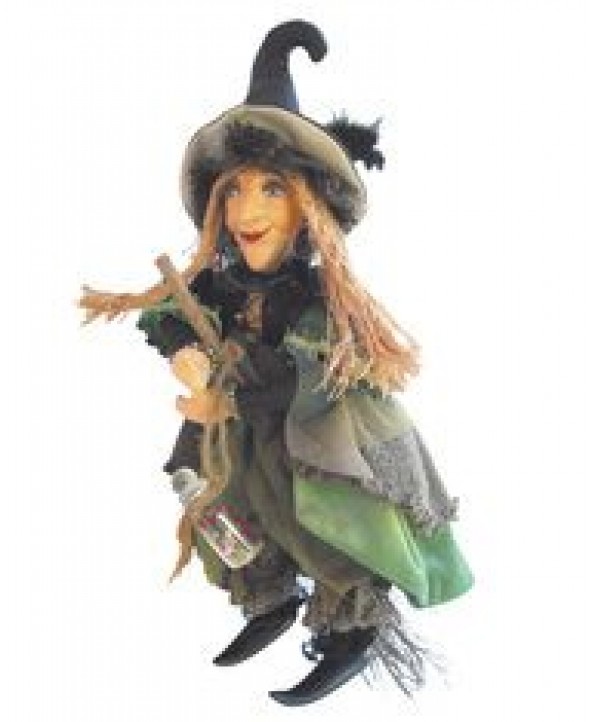 Alice Nutter - Green Pendle Witch
Product Code: Witch
Availability: Out Of Stock
Witches of Pendle - Alice Nutter
Alice Nutter, a gentlewoman of Roughlee, Pendle, was the wealthiest of the 'Pendle Witches'

She was sent to Lancaster Castle with Demdike, Elizabeth Device, Alizon Device, Jennet Device, Chattox, Anne Refearn and others after 9 year old Jennet Device identified her as one of the women who took part in the Good Friday Gathering.

With porcelain face, hands & boots.
24cm flying
This is a brand new item from the Witches of Pendle collection.
It is a beautiful quality with excellent detail throughout.
These dolls are intended for collectors and not to be treated as a toy.
Comes complete with leaflet with full story of the Pendle Witch trial
Brief history of the Witches of Pendle
The Witches of Pendle lived during the reigns of Elizabeth I and James I between 1558 and 1625. It was an era of religious persecution and superstition.
The only true account of what really occurred is a book titled "The Wonderful Discoverie of Witches in the Countie of Lancaster" written by Thomas Potts who was Clerk to the Judges of Lancaster Assize of 1612. It was on their instruction that the book was written in November 1612 some three months after their execution.
Before examining the evidence against the witches it is necessary to learn something of the local conditions that existed in the early 17th century. Superstition was widespread among all classes of society. Wells, ponds and even groups of stones were thought to be the haunts of fairies, elves and goblins. Evil spirits were thought to roam the countryside seeking opportunities to cause injuries to every sort of being. Often charms such as horse shoes, a holed stone or a circle of Rowan twigs fastened to doors could be effective to ward off the evil one.
It is not surprising that people accepted without question the wildest tales of the powers of evil spirits and activities of those people who were reputed to have personal connections with witchcraft. So a sudden death, a long illness, a loss of crops or cattle would be attributed to them.