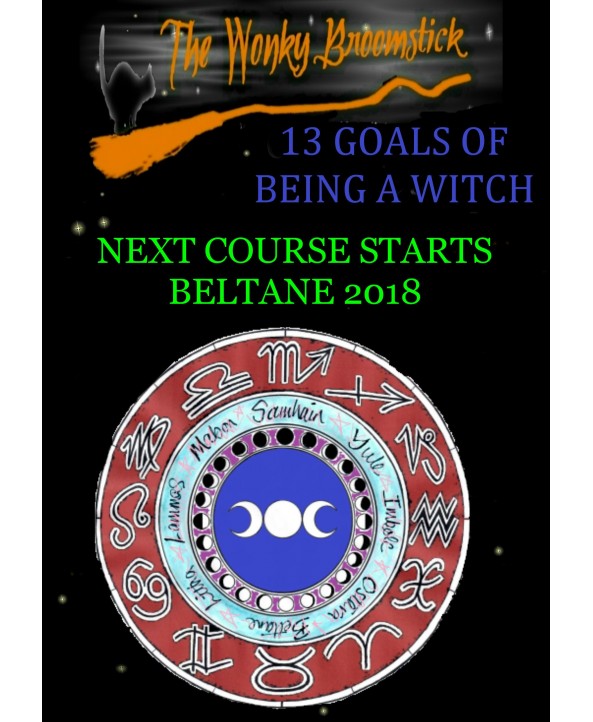 13 GOALS OF BEING A WITCH - INTERNATIONAL RESIDENTS
Product Code: course
Availability: In Stock
Starts 1st May 2018 runs for 13 weeks to 31st July 2018
Continuing on with our very popular at home on line course we would like to introduce the next 13 goals of being a witch course.
This 13 week course will give you a taster into understanding about becoming a witch. It covers all the key aspects someone new to witchcraft will need to learn to start them on their journey.
Your course book and work book will all sent direct to your home.
Also as part of our course we create an on-line Facebook group where only members of that particular course will be able to chat and discuss the course with each other and ourselves and are able ask questions so a constant support throughout.
The on-line group will be open for the length of the 13 week time frame where we will be on hand to help you progress.
The important thing to remember about this course is that it is you finding your path. So you have to take the responsibility of learning it. You are asked to share your journey with the members of your group as with any friendship this will build a sense of sister/brotherhood. However if you do not give yourself time and the discipline to do it you will miss out on the fundamental beginnings of your path.
The course subjects are as follows:
1. Know thy Self
An insight into basic self meditation to understand who you are
2. Know thy Craft
Get to know your Altar and Craft tools
3. Sabbats
We journey through the Pagan year, Sabbat by Sabbat.
4. Meditate
A deeper look and understanding of Meditation and how you can harness its power to aid you in life situations and your craft work
5. Moon Phases
We move through the 28 day lunar cycle and seem how each phase effects us.
6. Moon Water
Moon water is an integral part of every witch's Altar and in this section I take you through a step by step guide of making your own and what it can be used for.
7. Drawing down the Moon
How to increase your power by harnessing the Moon.
8. Spell casting
Simple easy to cast spells so you will learn the power of incantations
9. Candle Magic
Learn what different colours represent and how they can be used in your craft work
10. Find your God/Goddess
I will help you to discover which deity you are working with.
11. Working with your God/ Goddess
Learn how to call upon your God/ Goddess to reinforce your craft work.
12. Incense
Develop an understanding of the most commonly used incense and how they can aid you.
13. Your Craft Name
I will guide and help you discover which name the Craft has chosen for you.
Every Witch works differently and they will also use different tools, being a Witch is a completely personal experience and there are no right or wrong ways of practising as long the code is honoured. You will probably find that as your journey progresses, you may change your tools many times, you may wish to join a Coven, live as a Hedgewitch or Solitary. You Journey will take on many different experiences and this course will give you an helping hand in understanding in what is to come.
There will be a start date & then you you will work through at your own speed. Please note your books will arrive before then but the on-line group be open for you to interact with other members but course support will not start until the start date.
The cost of the course is £160.00 including postage for International residents (Royal Mail International Tracked and Signed for)
We are more than happy to have international wonky friends join us.
Due to the nature of the course, to everyone enough attention they require and help they need over /the duration of the course. The course will be limited to a max. of 25 'Witchlings' (LOL)
The course is due to start: 1st May 2018 & ends 31st July 2018.
The books will be sent out 2 weeks prior to start date but you will be added to on-line Facebook group (This is a secret group so only members on the course can post and comment) when you sign up so you can chat with the other witchlings then the support for the course will commence on the start date and end on the end date.
Please note course in NON REFUNDABLE as spaces are limited.