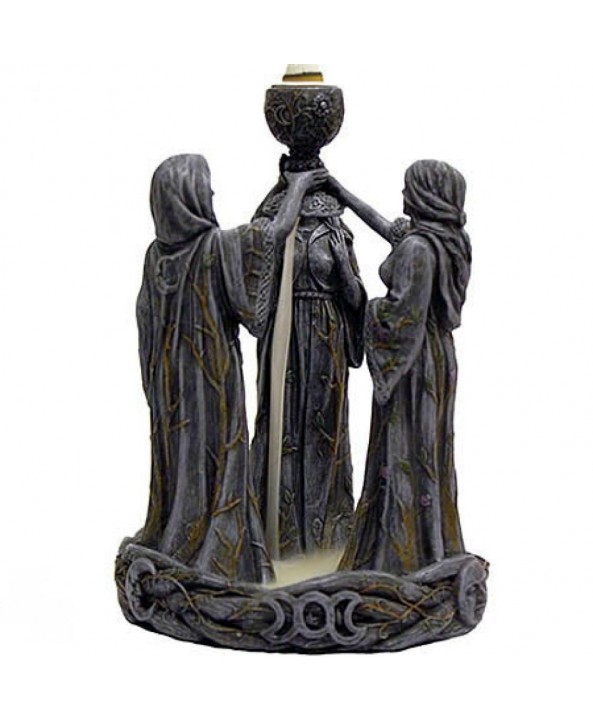 Mother, Maiden & Crone Backflow Burner
Product Code: statue
Availability: In Stock
Mother, Maiden & Crone Backflow Burner
A beautiful depiction of the Maid, Mother, Crone - Triple Goddess symbolism.
A backflow incense cone burner, which takes the form of three figures; the maiden still in the flush of youth, her symbol the waxing moon; her robe is decorated with trees coming into bud. The mother is heavy with child, about to enter the realm of motherhood, her robe is adorned with trees in full bloom, her symbol is the full moon. The crone or wise woman, has entered the third phase, her symbol the waning moon; she leans on her gnarled walking stick and her robe is decorated with trees that are beginning to wither.
The triple Goddess symbol of the waxing, full and waning moon is echoed at the foot of the burner as well as on the chalice held by the three. The cone is placed in the chalice and as it burns will allow smoke to drop from the hole and pool into the circle of twisted tree roots in which the three figures stand.
Once you have lit your cone, it will begin to smoke, this incense is heavier than air and it will fall in swirls and twists, through the hole and down into the bowl. It is incredible to watch and very relaxing. A gorgeous gift for someone special.
Height: 170mm
Width: 120mm
Depth: 120mm
Material: Resin
Incense Cone Burn Time: Approx. 20 mins
Hand Painted AccentsWonderfully Detailed
Comes boxed